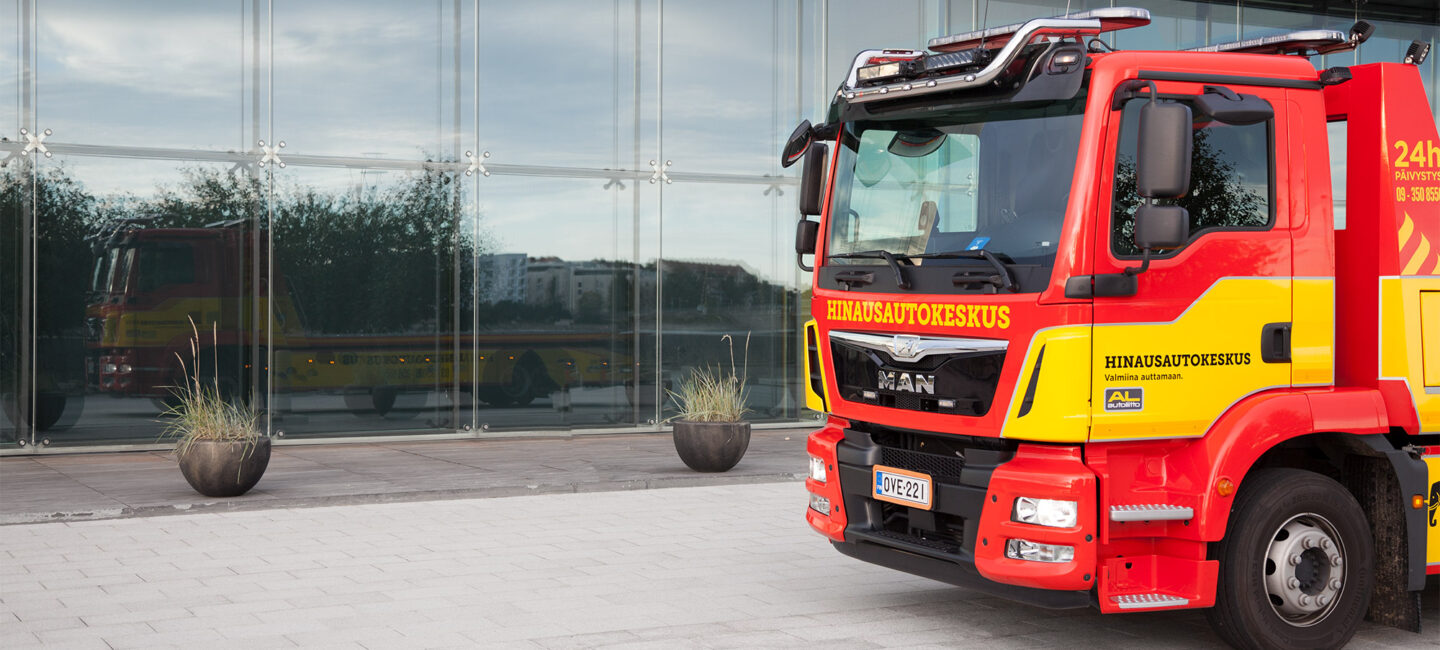 24/7 Towing Service & Roadside Assistance
Need towing? Or is your car battery dead? No worries, we'll get the job done!
I need a tow truck. What do I do?
1. Call us!
Our phone lines are always open. We're happy to help you any time at +3589 350 8550.
2. Info
We need to know your location, your license plate number, and what is wrong with your car.
3. Where to
We'll tow your car wherever you want. We can help you pick a suitable car repair shop.
4. Arrival
Depending on your location, it usually takes us 15–60 minutes to get to the site.
Professional Towing for All Vehicles
We at Hinausautokeskus provide you with 24-hour Towing Service and 24-hour Roadside Assistance. We'll tow your vehicle whenever towing is needed, but if you have a car problem we can fix right away on the road, we'll send our road service to your rescue.
24-hour Towing Service
We offer towing for all types of vehicles including cars, vans, motorcycles, and heavy vehicles. Several of our tow trucks are ideal for heavy duty towing which involves towing RVs, buses, trucks, heavy machinery, etc.
Our flatbed tow trucks enable us to tow many types of vehicles including ones with four-wheel drive and/or automatic transmission. In addition, we have small tow cars for narrow parking garages and other tight places.
Whether you've been in a car accident or your vehicle needs off-road recovery (winching, i.e., pulling a car out of a ditch, for instance) or your car simply stopped running while driving, we are the right place to call! You can reach us day and night (24h) by phone at +358 9 350 8550.
See below for our Roadside Assistance.
Where We Operate
We operate in the Capital Region (Helsinki, Vantaa, Espoo, Kauniainen) and elsewhere in Uusimaa (Kirkkonummi, Järvenpää, Tuusula, Kerava, Sipoo, Nurmijärvi, Hyvinkää, Mäntsälä, Porvoo, Loviisa) as well as other cities all over Finland.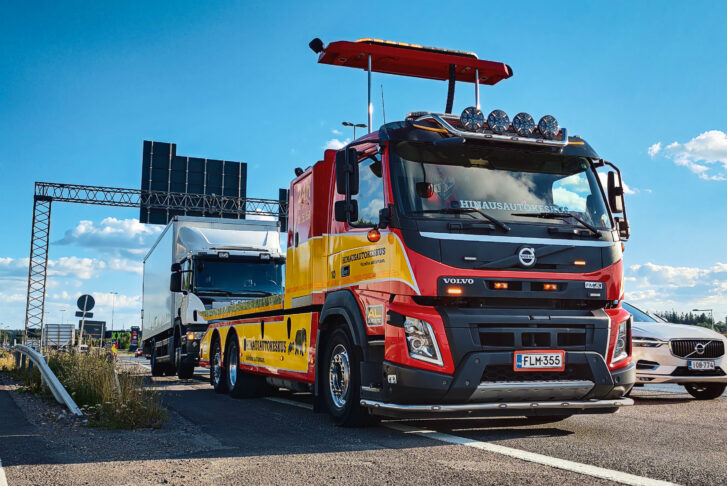 24-Hour Roadside Assistance
Jump Starting Your Car
If you're not completely sure how to jump start your car and don't want to risk damaging the battery, it's best to let a professional jump start your car safely with proper equipment.
Car Battery Service
We inspect your old battery, including cables and terminals, and do a voltage and load test. Car batteries typically perform well 4–6 years. If your car battery is older than that or isn't otherwise functioning as desired, we'll bring and install a new battery for you.
Lockout Service
If you've been locked out of your car (and the key is either in the ignition, elsewhere inside the car or even lost), our car mechanic can open the door for you using special tools.
Tire Service
We can either fix a broken tire or change it. When your tire needs changing, we can either use your own spare tire or lend you a used one for a couple of days or bring you a completely new tire. We have a vast selection of Continental and Nokian tires.
Draining the Fuel Tank
We have professional equipment for draining and flushing your car's fuel tank when you've accidentally put the wrong fuel in your car, e.g., gasoline in a diesel car or vice versa.
Car Computer Diagnostics
If you're having a problem with trouble codes (your check engine light is on, for example), we can read and reset the Diagnostic Trouble Codes (DTC). Sometimes certain lights flashing on your dashboard mean a visit to a car repair shop, but sometimes resetting the codes is all that's needed.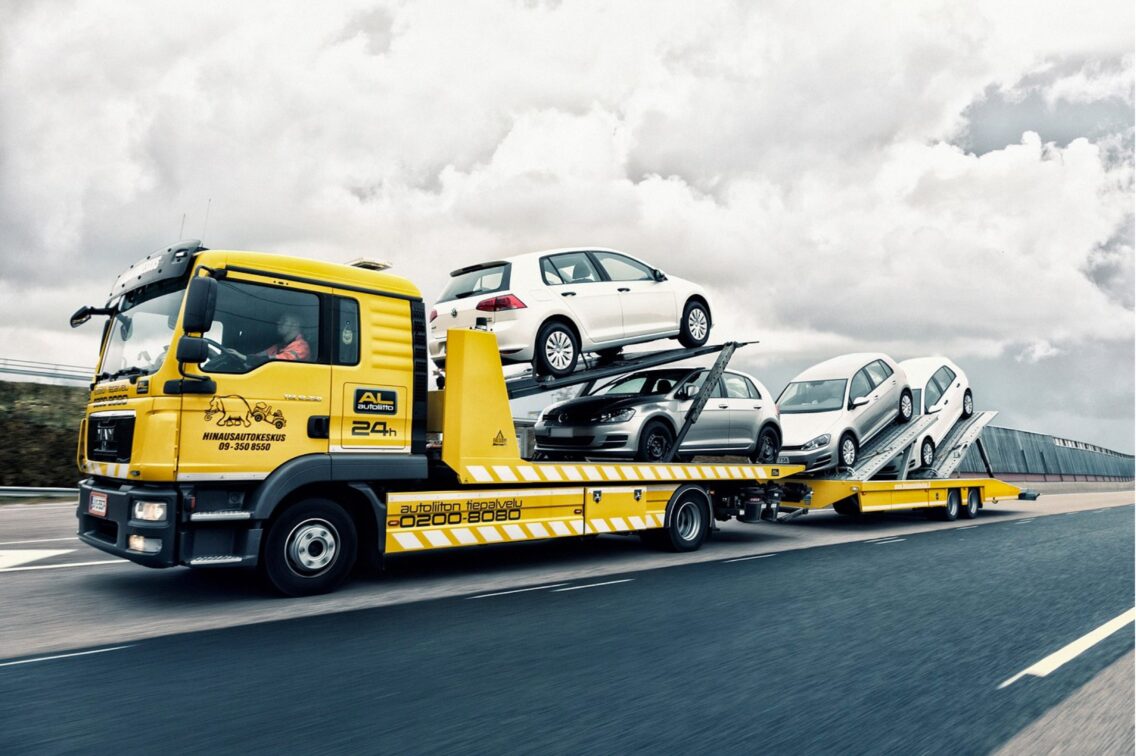 What About the Costs? – Does My Insurance Cover Towing?
If your car has any additional insurance to the mandatory traffic insurance, it's likely your insurance covers towing and road assistance entirely (in Finnish, this type of insurance is often referred to as 'kaskovakuutus' or 'autopalveluvakuutus'). In many cases, our customer service agents can check what kind of car insurance you have.
Prices and Payment Methods
Pricing
If your insurance doesn't cover towing, our prices start from 150 € on weekdays and 260 € on nights and weekends.
Cash and Cards
We accept cash as well as card payments with most debit and credit cards.
Invoicing
Invoicing you directly is possible if you have a Finnish address and social security number and your credit information is good.
Contact Us
By phone (24h) +358 9 350 8550 or by chat, WhatsApp or email at asiakaspalvelu@hinausautokeskus.fi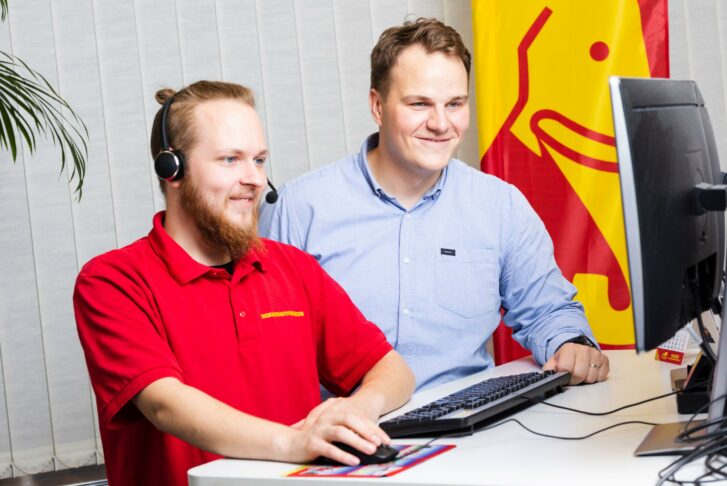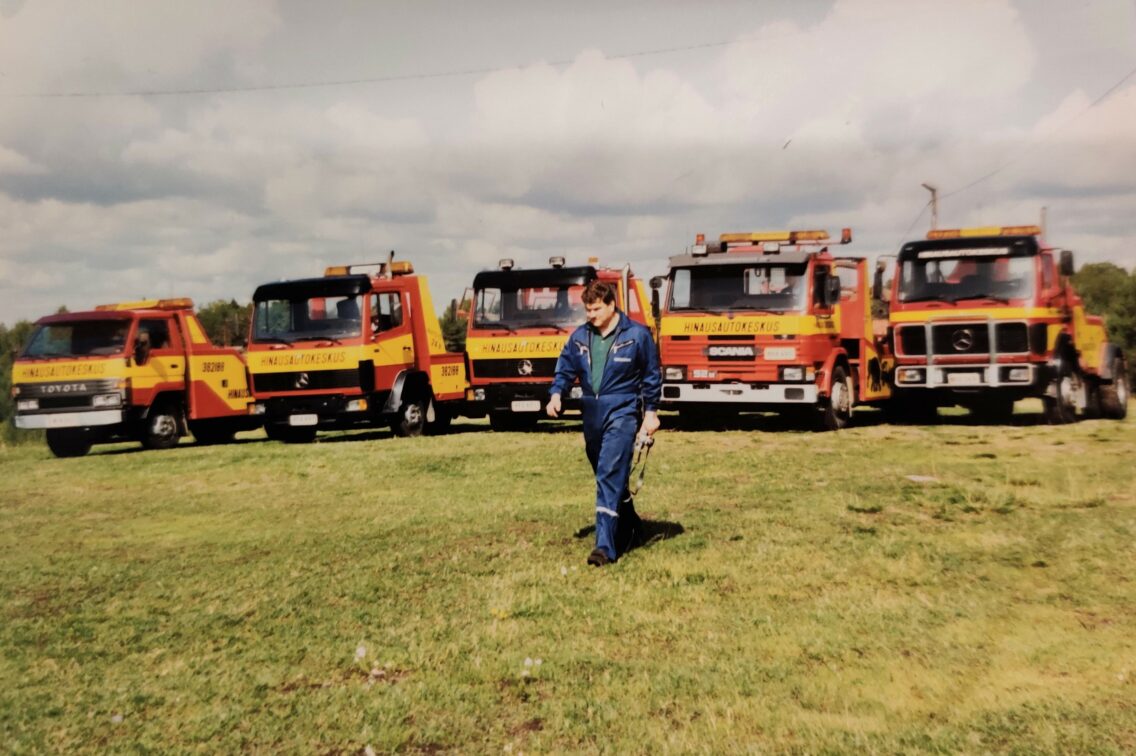 Hinausautokeskus – Family Owned and Operated Towing Company since 1965.
Hinausautokeskus is a Finnish family business that offers towing and road services around the clock. Hinausautokeskus has been operating since 1965 and as an independent company since 1977. Our offices are located in Helsinki, Järvenpää and Porvoo. We currently employ 54 people and 35 towing and road service vehicles.